I feel like if I could spend a Sunday with any family besides my own, it would be the Shirer/Evans family.
They are just so full of joy and wisdom. Here's proof that you can be faithful and still have fun. For his 74th birthday, Priscilla Shirer surprised her dad, Dr. Tony Evans with a concert to see The Four Tops and The Temptations.
My pawpaw always loved the Temptations. My mom and my pawpaw actually danced to "My Girl" at her wedding. I know for a fact if mom had surprised him with this he would have been ecstatic.
I just love how you can see the joy in his face as he sings along with the band.
View this post on Instagram
When I found this video, I also found another heartwarming Shirer family moment. While the family was visiting Liberty University, Dr. Evans was asked to speak. Little did they know that his grandson JC, made a surprise video announcement honoring his grandpa.
Not gonna lie, I almost teared up. Here's the video.
View this post on Instagram
The Lord has really laid it on my heart lately how much of a blessing family is. I know for a fact I would not be where I am today had it not been for my family. And here's the best part, as believers– we are all family!
So if you're reading this, call someone today from your family. Just tell them you love them. I'm sure it will make their day.
"For you are all children of God through faith in Christ Jesus." | Galatians 3:26 (NLT)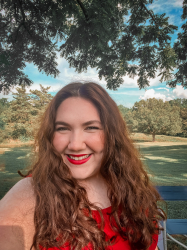 Latest posts by Alaina Goode
(see all)