Stop, drop, and pray.
While performing a concert in Nashville, TN (Sep. 30th), country star, Thomas Rhett stopped his concert when he noticed someone in the crowd needed medical attention.
After pausing the music, Thomas approached side stage to learn from friends and family that this man's name is Terry.
As Terry was being taken away by medical personnel, Thomas Rhett led the fans in prayer:
"God, we just ask for your healing over Terry. We know you are the ultimate physician. We know that you are the ultimate healer. Pray for Terry's family right now, who [are] very scared. For Terry, who is very scared,

God, we know that you are a miracle worker and we pray over Terry and his family right now. We ask that everybody in this room, after they leave tonight, they will continue to pray for Terry and his family. We love you. We thank you for this in Jesus' name. Amen."" | Thomas Rhett
Rhett finished his set for the night with one more song in honor of Terry. Fans were relieved as Thomas gave a health update the following day.
I'm thankful to report that Terry, who needed medical attention at last night's show in Nashville, is home and doing well. He and his family appreciate all the prayers! Love y'all so much.

— Thomas Rhett (@ThomasRhett) October 2, 2023
It has been heavy on my heart lately that there is power in prayer.
Within the same week of this concert, I got a call that 5 kids from my home church were involved in a serious car accident as they were on the way to see the movie "The Blind."
A car was trying to pass someone in a no-passing zone and was on the opposite side of the road. This car side swiped the kids, pushing them off of the road and they collided into a tree. All of the passengers were between the ages of 12-18. The first person to arrive on the scene was a pastor, and one of the girls asked if he could pray out loud.
When they got to the hospital, they once again prayed out loud. Others began gathering at churches, in small groups, families came together and prayed.
Although they are facing injuries, all 5 of them are recovering, alert, and alive. Our God is a mighty God! If you feel like God isn't listening, take this as a sign. He hears your prayers! Even though we may not get an answer when we want it, He will provide what you need.
 "Then Jesus told them, "I tell you the truth, if you have faith and don't doubt, you can do things like this and much more. You can even say to this mountain, 'May you be lifted up and thrown into the sea,' and it will happen.You can pray for anything, and if you have faith, you will receive it." | Matthew 21:21-22 (NLT)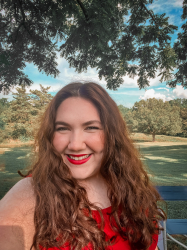 Latest posts by Alaina Goode
(see all)