Y'all this performance is just as fun and groovy as any Lauren Daigle outfit.
Grammy award-winning artist, Lauren Daigle has over a billion streams worldwide. And she's not done yet. Lauren is full speed ahead with the new release of her self-titled album and Kaledeiscope Tour. Her Song "Thank God I Do" has been nominated for the 2023 Dove Awards.
As part of the Citi Music Series, Lauren performed "These Are The Days" and "Be Okay" live on the TODAY show on October 11th.
"It's been one of those records that you always long to make. I worked with the most incredible writers. And it has been phenomenal." | Lauren Daigle
Prepare yourself for a worship party and Lauren Daigle shares what it was like hearing her song on the radio for the first time. And make sure to stick around for the heartwarming story behind Lauren's song "Be Okay."
Ellie Holcomb is currently on tour with Lauren Daigle. They co-wrote "Be Okay" based on the story of a young girl who emailed Ellie questions and told her she was diagnosed with a terminal illness.
When Ellie couldn't answer these profound questions that a child should never have to face, Ellie found the only way to respond or express herself was to write a song. So she collaborated with Lauren and they gave us this beautiful song "Be Okay." The host on the TODAY show even states that this is a song needed for this time.
Be encouraged today that you're gonna be okay. These are the days, this is what He came for.
"At the end of all our breath, when we're beckoned on to the light. Love'll meet you there, you're gonna be alright. Oh, the end of all our breath is the beginning of new life." | 'Be Okay' by Lauren Daigle & Ellie Holcomb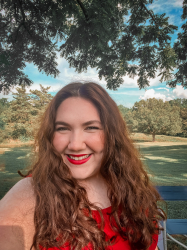 Latest posts by Alaina Goode
(see all)