Imagine having the confidence to paint clouds on your face on live television.
And imagine dropping 23 new songs in one year. Wow.
I wonder how Lauren Daigle decides what song to perform. The only thing cooler than Lauren Daigle's makeup, was her amazing performance on Jimmy Kimmel last night. I love the fact that the clouds on her face reference lyrics from this rock song on her self-titled album 'Turbulent Skies.'
"I know the one who parted clouds of fire by night
Delivering the darkness to the light
Oh, He is with us as we ride
On turbulent skies" | Lauren Daigle
This song has an awesome message about God's power! When the world feels like chaos and trouble from all sides, God's love can overcome it all! 
One performance that I actually got to see live this year was at the 2023 GMA Dove Awards. Lauren Daigle gave a speech and sang her song 'Be Okay.' The story behind this song is incredible. And beyond that, she used her song to address the chaos and hurt in the world, like in Israel, which was inspiring.
I remember watching her read the teleprompter, and I remember the moment when she went off script. She started singing a 90s worship song called 'People Get Ready…Jesus is Coming' and how we all play a part in spreading the gospel. 
That was the moment I realized I would always celebrate when Christian artists perform anywhere. Because their music is made to spread God's joy and hope. I'm so glad TBN put the full performance on YouTube so you can see it. It's worth the watch.
"And I am convinced that nothing can ever separate us from God's love. Neither death nor life, neither angels nor demons, neither our fears for today nor our worries about tomorrow—not even the powers of hell can separate us from God's love." | Romans 8:38 (NLT)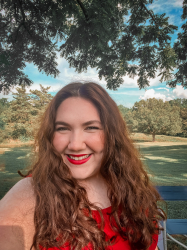 Latest posts by Alaina Goode
(see all)