CAIN's new music video is a rollercoaster ride of fun. If you didn't pick up from the music video, CAIN has featured several artists who have inspired their music journey and hidden song titles from those influences in this new hit.
In case you missed them all, I'll leave you a little guide here:
Lyrics:

Do you need a God of Wonders? "God of Wonders" by Third Day (Mac Powell)
Amazing Grace? "Amazing Grace (My Chains Are Gone) by Chris Tomlin 
Are Looking for somebody who is Mighty to Save?  "Mighty to Save" by Michael W. Smith
I found resurrection power "Resurrection Power" by Chris Tomlin
Wrapped in a song
Ah yeah
And 10,000 reasons that you should sing along   "10,000 Reasons (Bless the Lord) by Matt Redman
To that

Jesus music
Down in my soul
I got Jesus music
Turn up that Jesus music

Now, I can only imagine  "I Can Only Imagine" by MercyMe (Bart Millard)
Where I'd end up
If it wasn't for Jesus and How He Loves "How He Loves" by David Crowder Band
When the world gets too loud (Too loud)
Trying to steal my attention
I just drown it out
When I Dive in and listen "Dive" by Steven Curtis Chapman
To that

Jesus music
Down in my soul
I got Jesus music
Turn up the radio
And put the sound of freedom
In my ears
I'm gonna sing it
Till the whole world hears  "Until the Whole World Hears" by Casting Crowns
That Jesus music

The devil tried to put me through it
Thank God for Jesus music
Only way I'm getting through it
Is when I listen to it

I'm so blessed "I'm so Blessed" by CAIN
I was raised on the songs
That show me Your glory "Show Me Your Glory" by Third Day (Mac Powell)
And lead me to the cross
Now I'm singing this song (Ooh)
In my own family band (Ooh)
Making the music
That made me who I am "Who I Am" by Ben Fuller

Thank God for Jesus music, man
'Cause I don't know where I'd be without it
But it probably wouldn't be here
CAIN's new album "Jesus Music" is set to release on October 13th.
View this post on Instagram
They just started their "Live & In Color" Tour with Katy Nichole and David Leonard. And for the cherry on the cake, CAIN will be featured on Casting Crown's 20th anniversary album singing "Nobody."
View this post on Instagram
After seeing CAIN's music video, I started to think about the "Jesus music" that I grew up on. I'm so grateful for those songs that spoke to situations I've faced and ministered to me time after time. If I were to create my own Jesus music video, I know for sure I would include some of the artists that CAIN did, and I'd definitely throw Colton Dixon, Matthew West, and Jamie Grace into the mix.
Who would be in YOUR Jesus Music video? Comment down below!
"The devil tried to put me through it
Thank God for Jesus music" | CAIN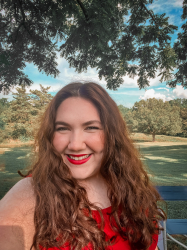 Latest posts by Alaina Goode
(see all)