If you haven't noticed, Natalie Grant's been teasing on her socials for a while about her new album "Seasons" that is set to release October 6th. She's calling it the "record of her life."
"Through the different seasons of my life I have had these different songs that have been like a foundation to me. This record is different than the rest because this is my history…These are the songs that I sang in the shower, in the car, in the pillow when I was crying. And I got to take these songs and have collaborations with so many artists. This is the record of my life. " -Natalie Grant 
Earlier this year, Natalie was the first artist to perform in this years Celebrity Concert Series at Dollywood. But in recent news, Natalie just announced that her dream come true collab, is not a dream anymore. Dolly Parton will be featured on the new album singing "Step By Step," the hit song by Whitney Houston. And it's a hit y'all.
@nataliegrantofficial Some of you are wondering how this whole Dolly collab happened. Well…this is how! "Step By Step" has such a special place in my heart and story 💘 It reminds me so specifically of a season of waiting and trusting that God would fulfill every plan He had for my life. And to get to sing it with the iconic @Dolly Parton is proof that He still makes dreams come true. Listen to "Step By Step" with Dolly Parton now wherever you stream music! #Seasons #NatalieGrant #DollyParton #StepByStep ♬ original sound – Natalie Grant
You can listen to the full lyric video here.
Natalie Grant is going to feature other amazing artists like Cory Asbury, CeCe Winans, Tauren Wells, & so much more!
View this post on Instagram
Also if you want to listen to another iconic blonde duo, check out the Holy Mess Podcast with Joy & Bekah.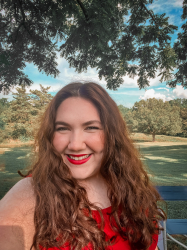 Latest posts by Alaina Goode
(see all)