I'll never forget the time that my dad almost got his car stolen at the beach. 
Years ago, my family was on vacation in Harbor Island, South Carolina. It was the last day that we were staying there and my dad went out to get groceries for dinner. While at the check-out my dad sat his keys on the counter and someone picked them up and walked right out the door.
For some weird reason, the person did not steal our car, just the keys. Fortunately, we were staying with other family members, so my aunt went to pick him up. The keys were never returned, and we had to get a new key made. Obviously, my parents were stressed and frustrated about the situation. As a kid, I was delighted because this just meant more time at the beach.
It's easy in moments like this to get upset and angry. But wait until you see how Casting Crowns reacted to something stolen that was way bigger than just a set of keys.
View this post on Instagram
On October 6th, Casting Crowns had a semi-truck stolen while performing in Topeka, Kansas for their 20th Anniversary Tour. After hours of searching, police had found a 39-year-old woman driving the truck on the highway.
The truck had some minor damage but fortunately, no member of the band or any person was hurt in this process. Despite this delay, Casting Crowns was even able to make it to their performance in Illinois the next day.
Obviously, this incident caused some stress and setbacks for the band and road crew. But instead of reacting in anger and frustration, Mark Hall sent out a message on his social media.
"Can you please join me in praying for Stacie? Pray that she will sense God working in her heart and that she will surrender to Him. She's so much more than a thief. She's a soul that needs a Savior. Pray for Stacie" | Mark Hall
When you respond to a broken and hurting world with prayer, it speaks volumes. Praying for the people you love is one thing, but it's difficult to pray for people who hurt you or others. Let's join Casting Crowns as they pray for Stacie.
What is something that you're struggling to talk to God about? 
For me, I like to start by thanking God for something. Scientists have done studies on how gratitude and anxiety have trouble existing in our brains at the same time.
So, thank Him for something, and then tell Him how you really feel. Whatever works for you.
"Always be joyful. Never stop praying. Be thankful in all circumstances, for this is God's will for you who belong to Christ Jesus." | 1 Thessalonians 5:16-18 (NLT) 
Find out more about Casting Crowns' tour and their upcoming documentary in the blog below!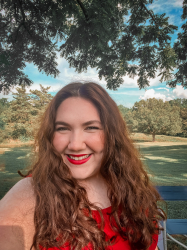 Latest posts by Alaina Goode
(see all)