It's time for a fiesta!
If you didn't know, September 15th is the first day of Hispanic Heritage Month. Hispanic Heritage Month is a time to celebrate all the contributions of Hispanic culture, traditions, and food. Many Latin American countries celebrate independence for their countries during this time. And we can all celebrate through the universal language of music.
So we reached out to our friends at  Vida Unida Radio, and put together an amazing list of Spanish songs for you to listen to with some translated lyrics.
1. Guarda Tu Corazon – Alex Zurdo
Alex Zurdo is a Puerto Rican rapper and songwriter. He has been awarded the GMA Dove Award and Arpa Awards, having also been nominated for a Latin Grammy, and a Tu Música Urbano award.
"Guard your heart
put it where no one sees it
everything you see don't believe it
let love find Him." | Alex Zurdo
2. It's So Good (Cuán Bueno) by DOE ft Lilly Goodman
This is DOE's third Spanish Single after collaborating with Blanca and Twice Música. This Spanish rendition of her song "It's So Good" with Dominican singer Lilly Goodman will leave you feeling…so good. This is my favorite from the list.
"I have joy and happiness
in adversity
A hope that offers me security
You are my helper,
You are always here

Oh Your love runs after me
You are good, God
How good you are, God" | DOE ft. Lilly Goodman
3. Nubes – Indiomar ft. Blanca
Indiomar is a Puerto Rican Christian. You don't even need to speak Spanish to enjoy this music video. Powerful stuff!
"Yes, when I was sick, Jesus ​​was my paramedic. I know that even if you go far away, And try everything on the menu. When the one in the mirror is no longer you. Soon you will look up at the clouds. The light comes from above." | Indiomar ft. Blanca
4. Coritos (En Vivo) – Miel San Marcos, Daniel Calveti, Marcos Witt, Ingrid Rosario
Miel San Marcos is a Guatemalan Christian music group made up of three brothers Josh, Luis, and Samy Morales. It is so interesting to see that family worship bands can be found all over the world!
"And if you come to Christ Jesus
He will forgive you
Because a look of faith
It is the one that can save the sinner." | Miel San Marcos
5. Suelto – Sarai Rivera
Sarai Rivera is an incredible worship artist and her music is powerful. For those who are facing a difficult season or struggling to trust God, this song is for you.
"I release my plans to you
I release my decisions to you
Take control of my life
I long for your plan more than mine

It's difficult, sometimes you don't understand
You know me, more than myself
Believe in something, that I don't see,
I know your plan is perfect

Make me see how you see me
Make me understand and believe without fear" | Sarai Rivera
6. Todo tiene su hora – Juan Luis Guerra 
Juan Luis Guerra has been one of the biggest names not only in Spanish music, but in Christian music worldwide. He became a believer after becoming a famous singer, and his songs will encourage you to grow deeper in your faith.
"Your blessed love is coming, there is no point in being impatient, oh no.
If it is a gift from the Lord," | Juan Luis Guerra
7. El cielo aún espera – Jesús Adrián Romero & Adriel Favela 
Jesús Adrian Romero is one of the biggest names in Christian music.
"And to love without reservation
Be my strength
That heaven is still waiting" | Jesús Adrián Romero & Adriel Favela
8. Happy – Johnny Rez + Niko Eme
Fun fact, Johnny Rez is currently attending the Bible college that Erick from Vida Unida went to in Dallas. He is climbing up in the Hispanic Christian music industry and this song is one of the favorites on Vida right now.
"Every day I walk happy happy
Because I spend it stuck to you
Wherever you go I go quickly quickly
Every day I walk happy happy." | Johnny Rez & Niko Eye
9. Flor de Desierto – Kim Richards & Indiomar
Just like with Jesus Adrian, this is a northern Mexico regional style song but Kim Richards is the main singer for a really important worship band called Un Corazon. So this is far from her normal sound.  And Indiomar, it's the same, he sings urban style, rap, and reggaeton. Which is the complete opposite of what this song is, so that's why this is a super rare and special song that they just released.
"Desert flower
I abandon all my desires to have you
sublime grace
Before I was blind and now I see clearly." | Kim Richards & Indiomar
10. Contigo – Nezareth ft Twice Música
Another fun fact, I didn't even know Nezareth sang, because he used to be one of those "kids preachers" super famous from the 90's. If I'm not wrong, this is his very first song, and honestly, it's awesome. Twice Música is gaining popularity, that's probably why he featured with them.
"Your love came into my life
And it taught me that everything is better
When you are with me by my side." | Nezereth & Twice Música
I definitely have some new artists added to my playlists, I hope you have too!
"Let the message about Christ, in all its richness, fill your lives. Teach and counsel each other with all the wisdom he gives. Sing psalms and hymns and spiritual songs to God with thankful hearts." | Colossians 3:16 (NLT)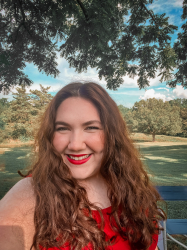 Latest posts by Alaina Goode
(see all)