"My favorite part of this season is coming everyday and seeing this cast and crew. We lift each other up and that's been the highlight. So many people are going to relate to this season. I'm really excited to see how they bring it into their own lives and learn from it." | Paras Patel (Matthew)
According to the production team on 'The Chosen' TV series, you can expect to see original songs with biblical instruments, and scenes ranging from intense one-on-ones to shots with over 600 people. Director, Dallas Jenkins, lets us know that his favorite moments from this season will be included in episode seven.
"I'm excited for them (the fans) to see a lot more complexity and darkness throughout this season in a different way. It becomes more relevant to dificulties that you go through and trying to keep your spirit and your faith going strong despite those dificulties." | Reza Diako (Philip)
It is so thrilling to see these stories come to life. After all, the Bible is the greatest story ever told. Season 4 is set to release in January or February of 2024.
What Bible story do you think will be in season 4?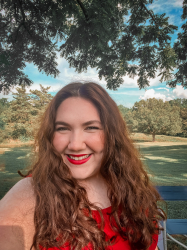 Latest posts by Alaina Goode
(see all)