Maybe you're like me and if your to-do list isn't a mile long, your house isn't desperately needing a deep clean, and you're getting more than 6 hours of sleep, then you start to think something is terribly wrong.
Being busy, stressed, impatient and overwhelmed have all become feelings I'm way too comfortable with.
If I'm honest my morning quiet time looks less like a picture perfect flat lay of my Bible and morning coffee and more like a 2 minute prayer to Jesus while brushing my teeth.
While I am all too aware of the hectic nature and craziness of my life, without fail when someone asks "Hey, good to see you, how are you?" My answer is inevitably "I'm doing great! Thanks for asking"
Stop Saying "I'm Fine"
WHY do I do that? Actually, why do WE do that, because I know I'm not the only one. When somebody asks us how we're doing, instead of being honest, we just default to saying "I'm fine."
Now, I'm not saying you should spill your guts out to the grocery store clerks who asks how your day is going, but when a close family member or friend asks how you are doing… be vulnerable. Being vulnerable with people can be scary but it's an important practice that leads to deeper vulnerability with God.
The fear of appearing weak can often stop us from being vulnerable with one another but the Bible tells us the truth about our weaknesses. 2 Corinthians 12:9-10 says:
"'My grace is all you need. My power works best in weakness.' So now I am glad to boast about my weaknesses, so that the power of Christ can work through me. That's why I take pleasure in my weaknesses, and in the insults, hardships, persecutions, and troubles that I suffer for Christ. For when I am weak, then I am strong."
God's power and glory can shine even brighter in our moments of weakness. But if we put on the fake facade of "I'm fine" it leaves no room for Him to get the glory.
The truth is, I always feel better once a friend pushes me to share what I'm going through and how I'm truly feeling.  There is so much relief in having a friend who partners along side you to face whatever problems or stress life tries to throw at you.
Right now, if you're wishing you had a friend like that or are wondering how to make friendships go deeper than surface level, I've got the answer for you… to have a good friend you first have to BE a good friend.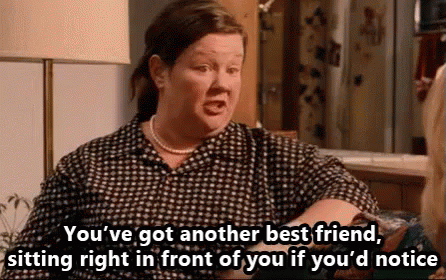 Stop Asking "How are you?"
If you see a friend struggling, ask them how they are doing, and you get a generic "I'm fine" then its time to re-evaluate your question.
We know the pain of going through tough things in life alone and we shouldn't allow the people we love to suffer in silence. So Instead of asking "how are you?" here are some different questions you can ask:
View this post on Instagram
These questions are built to help people open up and give us a better understanding of how a person is doing. Maybe you are skeptical… that's okay. I was at first too. I felt almost silly asking them but I've started trying them out on some of my friends, my husband, my mom, and a coworker and each persons response was SO different.
Sometimes the question was taken really seriously and they opened up to me about what they're going through.
Other times they felt silly answering the question and I really had to pry a response out of them.
No matter what the other persons response was to my question though, I do know this… they walked away from the conversation knowing I truly cared. Those friends now know that whenever they need someone to talk to, I'm the kind of friend who truly wants to listen.
Be that kind of friend.
Latest posts by Kaylee Farrar
(see all)