Keeping up with the Cain's has a ring to it.
Don't worry, that's definitely not the title.
'Chasing Cain' premiered exclusively on TBN on October 13th. Episodes 1 & 2 are now streaming on The TBN App with weekly episodes starting November 14, 2023. (Also, it's FREE!) 
The first episode 'Humble Beginnings' discusses the real musical journey of siblings Logan, Madison, and Taylorstruggling with self-doubt and considering giving up on their dreams until the Christian music industry changes the game for the faith-filled family.
I'm still debating whether to hang around until I can binge these episodes or just start now because I don't know if I can wait.
View this post on Instagram
It is perfect timing for their show to be released because the excitement and CUTENESS never end.
Logan and Emily Cain just welcomed their second daughter Rosalie to the world. (They actually told us about her in our interview with them!) And wait until you see this video of their eldest, River, meeting her for the first time.
View this post on Instagram
That means between all three Cain siblings, there are currently four babies. If four babies on a tour bus doesn't scream reality TV show, I don't know what does. Not to mention, their 'Jesus Music' tour and album is full speed ahead.
As believers, it is truly refreshing to have faith emerge with the media through TV shows and movies. I have already been so blessed (no pun intended) by this family's music ministry, and I cannot wait to hear more of their story and see what happens beyond the stage.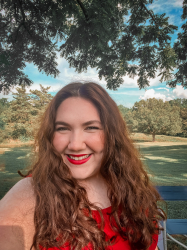 Latest posts by Alaina Goode
(see all)