When Anne Wilson sang "Let me tell you 'bout my Jesus," she really meant it.
Anne Wilson is a PLATINUM-certified, GRAMMY-nominated, Dove Award-winning artist. And she definitely ain't straying from her country roots anytime soon.
Wilson has given us a sneak peek at her new album with a three-track preview titled "Rebel: The Beginning."
Starting with my personal favorite so far, her song "Strong" tells us that when the world tries to break you, the Lord picks you right back up again. Check it out. 
'Rebel' speaks volumes as the title track of the album. This country rock vibe reminds me of We The Kingdom, and it does indeed rock.
Anne tells us that 'the one she follows is a rebel like me' because 'he takes his cross up a hill' and 'loves a sinner when no one else will.' It kind of reminds me of when everyone was talking about the idea or even theology behind the song 'Reckless Love.'
I think it's a similar idea because Jesus didn't have to love us, but He went against what the world said and loved us when no one else would.
To end this album sneak peek, is Anne's song "Rain In The Rearview." Anne gives us this beautiful visual that when life gives us storms, we can leave the hurt (the rain) behind us. Wait until you hear the note she hits at (1:50). Literal chills.
"These three songs felt like the perfect way to begin the next chapter of my musical journey. And I've got a lot more songs I've been writing, so this truly feels like the beginning of something special." | Anne Wilson
Anne Wilson has started her first-ever headlining My Jesus Tour with Josh Baldwin. You can find more details here.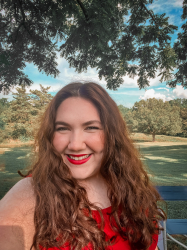 Latest posts by Alaina Goode
(see all)