The world is heartbroken for the nation of Israel.
Over the course of the past two days, a terrorist attack on Israel has resulted in a lethal amount of airstrikes and a formal declaration of war. Over a thousand people have died due to these airstrikes and attacks. The Hamas group has taken at least 100 hostages, including Israeli soldiers who have yet to be found.
One of the best ways for us to help is to rally around this country with prayer. The good news is that when tragedy strikes, we have a God who loves us and listens to us. If you need direction on what to pray, here are a few specific ways you can pray more deeply for this conflict.
1) Pray for the safety and protection of the civilians of Israel.
Father,

We pray for Your protection over the citizens and people within the nation of Israel. All of the innocent families, men, women, and children who are trying to escape and survive would be held in Your hands. We pray for Your peace that surpasses all understanding, and comfort for the families who have already lost loved ones. Let those who are in the midst of the war, never forget that You are with them. Amen.

"Don't be afraid, for I am with you. Don't be discouraged, for I am your God. I will strengthen you and help you. I will hold you up with my victorious right hand." | Isaiah 41:10 (NLT)
2) Pray for wisdom and strength for the Israel Defense Forces and all government leaders.
God,

We pray for your provision and wisdom in the lives of Prime Minister Benjamin Netanyahu and every Israeli government official. May you give them guidance during this siege in the placement of soldiers and major decisions that have to be made on the nation's behalf. Help them not to have a spirit of fear, but of power, love, and a sound mind. Amen.

"I urge you, first of all, to pray for all people. Ask God to help them; intercede on their behalf, and give thanks for them. Pray this way for kings and all who are in authority so that we can live peaceful and quiet lives marked by godliness and dignity." | 1 Timothy 2:1-2 (NLT)
3) Pray for peace and unity among Israel and Palestine.
Lord,

We seek Your will to restore peace in this long-standing conflict between Israel and Palestine. May you change the hardened hearts and lead us all to forgiveness. Help us not to be driven by fear, but to be motivated by Your love. You have the whole world in Your hands. Amen.

"I have told you all this so that you may have peace in me. Here on earth, you will have many trials and sorrows. But take heart, because I have overcome the world." | John 16:33 (NLT)
Prayer is powerful and brings change. If you want to pray for others or have a specific prayer request you can find our prayer wall below.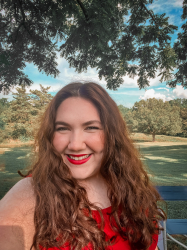 Latest posts by Alaina Goode
(see all)